No results were found for the filter!
Dura Letter Color
For monuments and gravestones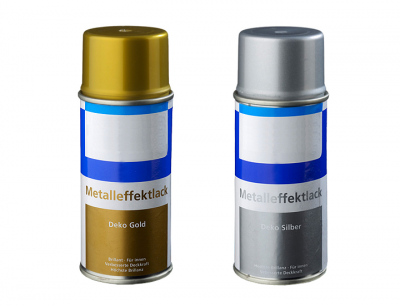 DecoSpray Metaleffect
Gold and Silver Spray, use indoor only.
Content
150 ml
(€3.97 * / 100 ml)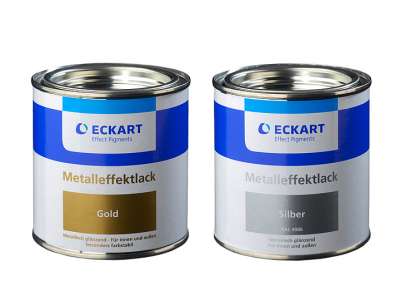 Metallic Paint
Liquid effect pigments for interior and exterior.
Content
0.125 litre
(€51.60 * / 1 litre)
Silver varnish 10ml
conductive varnish with 6 gram real Silver
Content
10 ml
(€377.20 * / 100 ml)
Gold paint - Important questions and answers
What is gold paint?
Gold paint is a gold paint that is applied to the surface of objects and art objects to enhance as well as protect them. Decorating with gold paint is a less expensive alternative to gilding with real gold elements such as gold leaf. In addition, gold paint protects against rust and other outdoor weather conditions.
What are the properties of gold paint?
Gold paint is available as a liquid variant and in powder form. Depending on the type of product, the properties of gold paint can also vary in their color, gloss and yield. The durability as well as the ingredients can also vary with gold paint.
On surfaces, gold paint has a protective effect against oxidation and is weather-resistant in outdoor applications. After removing loose particles, gold paint can even be applied to areas that are already rusting.
Usually, real gold is not processed in gold paint. Typical ingredients with copper and zinc pigments from the paint industry are used in its production. Depending on the shade of the gold paint, it can offer a matte or shiny/metallic look.
However, products such as painter's gold may also contain an actual gold content. In this case, the purchase price is higher than for conventional gold paint, although the end result of the paint finish is also of a correspondingly higher quality.
Application of gold paint
How is gold paint used?
Before applying gold paint, it should first be ensured that the surface to be coated is dry and cleaned of impurities. Wood surfaces should also be sandpapered beforehand and the resulting sanding dust removed afterwards.
Use covers to protect surrounding surfaces from accidental discoloration with the gold paint.
Depending on the nature of the gold paint, there are different procedures for processing the surfaces. Liquid gold paint can be mixed with water or with a suitable paint thinner. Before diluting, observe the product information of the corresponding gold paint.
The gold paint can be spread on the desired surface with a synthetic hair brush.
For larger areas, a spray gun is also suitable for painting. In this case, it is also important to dilute the gold paint appropriately.
Ready-to-use spray cans also offer a practical solution for working on decorative objects such as bowls, pots or vases. In this case, the gold paint can be sprayed directly onto the corresponding objects.
Gold paint in powder form, such as painter's gold powder, is powdered onto the Kölner Permacoll application agent using a gilding brush made of feather hair or a hair mixture.
After the desired areas have been coated with varnish, the object can be left to dry. Gold paint reaches a dust-dry state in less than an hour at room temperature. For complete hardening, the varnish needs about a week.
What accessories are needed for Gold paint?
Covers such as foil and cardboard boxes help you to keep the surrounding surfaces clean during painting.
Use suitable utensils such as brushes, paint brushes or paint rollers for applying the gold paint.
In the hobby area, many other creative tools can also be used. Among other things, stencils with which individual patterns can be painted are suitable for this purpose.
Where is gold paint used?
Gold paint is used in almost all areas. Since the paint can be used both indoors and outdoors, there are hardly any restrictions on its use.
Often gold paint finds its use in decorative objects such as vases, bowls, picture frames and much more. However, larger objects such as fences, gravestones, vehicles, as well as walls and exterior facades can also be decorated with the help of gold paint.
Cost & purchase of gold paint
What does gold paint costs?
The price of gold paint depends on the qualitative characteristics of the product. Depending on the product characteristics, the price of gold paint can vary. If you choose gold paint that contains real elements of gold, the value and, consequently, the price of the product may be higher.
Where can I buy gold paint?
You can order different gold paint variants in the store of Gerstendörfer Blattgold.